Residential (PMA) Preventative Maintenance Agreement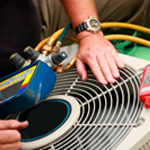 With regular maintenance you will prevent small problems from becoming big problems and ensure optimal performance of your comfort system. We also offer annual service agreements, which can reduce the cost of a Performance Tune-Up.
Regular maintenance will:
Provide longer lasting equipment
Reduce utility bills, especially in our blistering Houston summers
Reduce repairs
Provide a more comfortable indoor environment
Protect your investment
PMA...........why?
Priority service: 24/7, 365 days a year
No overtime charges
10% discounts on any service work
Protect your family from the deadly effects of an "unsafe furnace"
Facts you probably don't want to know....
Every year people die or visit the hospital because of an unsafe furnace which they didn't even know they had.
A typical duct system loses 25-40% of its heating and cooling capacity
Your HVAC system typically uses 60% of your home's overall energy
A dirty filter can increase your operating cost by 10%
A well-maintained heating and cooling system can reduce your utility bill by $360 per year!
What we do during a (PMA) preventative maintenance check?
Performance Furnace Tune-Up
Test for carbon monoxide leaks
Check burner assembly
Check ignition assembly
Check blower motor
Inspect filtration system
Adjust blower components
Test and adjust safety controls
Tighten electrical connections
Calibrate thermostat
Check flue draft and vent clearance
Check combustion
Inspect vent piping
Check heat exchange where accessible
Check temperature rise per manufacturer rating plate
Check electrical connections
Check voltage and amps
Performance Air Conditioner Tune-Up
Clean condenser coil
Inspect evaporator coil if accessible
Purge condensate drain line
Check blower motor
Inspect filtration system
Adjust blower components
Lubricate moving parts as required
Visually inspect for refrigerant leaks
Test condensate pump
Tighten electrical connections
Test starting capabilities
Measure air temperature differential
Monitor refrigerant pressure
Measure amperage and voltage
Performance Air Handler Tune-Up
Inspect evaporator coil
Clean blower motor
Inspect filtration system
Adjust blower components
Lubricate moving parts as required
Test and adjust safety controls
Tighten electrical connections
Calibrate thermostat
Inspect humidification system
Inspect electrical heating elements
Performance Heat Pump Tune-Up
Clean condenser coil
Purge condensate drain line
Check defrost controls
Inspect auxiliary heaters
Inspect filtration system
Lubricate moving parts as required
Visually inspect for refrigerant leaks
Test condensate pump
Tighten electrical connections
Test starting capabilities
Measure air temperature differential
Monitor refrigerant pressure
Measure amperage and voltage